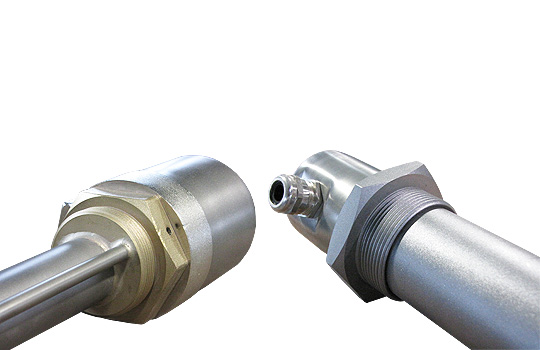 Product inquiry
We would be pleased to provide you with an individual offer and would be glad to advise you personally:
Tel: +49 (0) 2394 / 91 11 36
Cartridge heaters with ceramic heating elements are suitable for installation in tanks and vessels but also in various machine parts such as gear boxes and lubrication oil systems.
The surface load or watt density can be adapted precisely to the specific application.
Immersion heaters equipped with flange connection instead of screw-in thread are available: Flange immersion heaters | FHK
Construction - Cartridge HEATERS | PHK series
Cartridge heaters from Herbst Beheizungs-Technik consist of a ceramic heating element inserted into a protective steel tube. The tubes have a welded-in or hard-soldered bottom and a thread nipple on connection side for screwing into tanks or plants. The cartridge heaters are equipped with a hood and cable connection.

The ceramic heating element can be removed without having to drain the process media.

We recommend to weld a sleeve into the tank or plant as the most suitable way for the mounting of the heaters. We deliver ready for installation, along with the matching seal.

The cartridge heaters are constructed for horizontal installation. The fluid level must always be higher than the position of the heaters. Otherwise the elements or the medium can be damaged by overheating.

The tube material (steel or stainless steel), hood (zinc-plated or stainless steel) and thread nipple (steel/stainless steel/brass) must be chosen according to the particular application.